Join The Adventure
Mountain Bike Arkansas (MTBA) Promoting Fitness Through Cycling
Designed from our work with community organizations and amazing partners that support cycling across the state. We have members that ride recumbent bikes, road, mountain, city, cruisers and all kinds of adapted bikes. With our focus on bringing cycling to our communities, Mountain Bike Arkansas (MTBA) is reestablishing the mental and physical wellness of Arkansas communities by providing cycling and team building activities.  We have found that cycling, and trail building has helped with everything from physical disabilities to PTSD.
Vision Statement
Our Vision is to restore the mental and physical wellness of Arkansas communities through rehabilitative,  recreational, and team building activities.
Mission Statement
The Mountain Bike Arkansas (MTBA) exists to serve and support outdoor activities that benefit our local communities, and their support networks that keep them moving to a healthier lifestyle.
We encourage MTBA members to use outdoor activities as their rehabilitative tool to get active and in better shape. Members receive substantial discounts through our sponsors, community partners on cycling equipment, bikes and more.
MTBA Trail Improvement Initiative 
The MTBA Trail Improvement Initiative has adopted Springhill Mountain Bike Trails located in Baring  Arkansas.  We build on our members knowledge of how to properly maintain soft surface trails.
Monitor assigned trails for vegetation clearance, adequate sight-lines, surface conditions, drainage.
We help members understand mountain bike trail building concepts, engineering and safety standards as applies to the Army Corps of Engineer. MTBA Trail Leads t
rain and coordinate with trail team volunteers on their roles as they relate to trail maintenance needs. Members work with a trail coordinator to schedule "Trail Dirt Work Days" as needed to keep our trails at their best. This is all done through

 donations and organizational fundraising. You can donate directly to the Mountain Bike Arkansas (MTBA) donation page.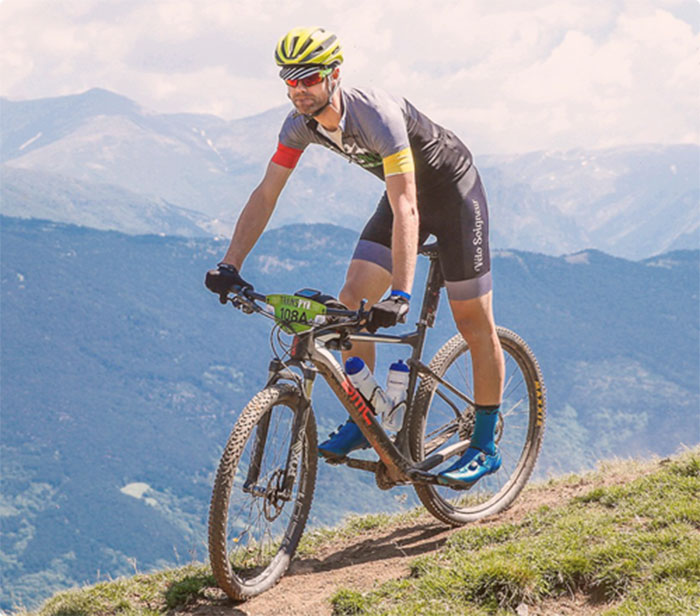 85
Community Service Hours
Our Mountain Bike Team Activities
Guided Mountain Bike Rides
98%
Arkansas Mountain Bike Championship Race Series (AMBCS)
30%
Mountain Bike Disciplines Described
XC / Cross Country / Single Track
Cross Country is the most popular discipline and became an Olympic sport in 1996, being the only mountain bike dicipline in the Olympics. XC and Cross Country riding is filled with climbs and descents that are traditionally less technical than Enduro. XC / Cross Country riding requires a high level of endurance, and bike handling skills. XC and Cross Country is most often done on single track soft surface trails. In an XC / Cross Country cyclist will compete by age groups for the overall fastest course time.
THE ARKANSAS MOUNTAIN BIKE CHAMPIONSHIP SERIES (AMBCS)
What you should expect Racing XC as Novice | CAT 3 | CAT 2 | CAT 1
Novice (Beginners should be able to ride 6 miles at a easy to moderate speed)
CAT 3 (Should be looking at light conditioning and the ability to ride 12 miles fast)
CAT 2 (Should be moderately conditioned and able to ride 18  miles faster)
CAT 1 (This is a serious well-conditioned athlete who can ride 21 miles the fastest)
XC / Cross Country bikes
Traditionally have a shorter seat tube angle, shorter reach, and a shorter wheelbase than bikes made for other disciplines. This put the rider in a more aggressive position above the pedals maximize the ability to put power into pedaling efficiency. The steep angle of the front forks also adds better handling / steering on a XC bike. XC bikes are commonly hard-tails and lightweight frames such as carbon fiber, titanium or buttered aluminum. XC Bikes usually have a suspension that is between 100 and 120 travel with less tread on 29in tires minimizing rolling resistance.
Enduro / All Mountain
Enduro is downhill mountain biking, like XC but with bigger drops and jumps.  Enduro races typically are made up of 3 to 6 stages of descending timed downhill sections of single track. Each downhill stage has an arrival and a start time recorded for each rider. There are often minimum qualifying times between stages. Enduro bikes are built to be able to climb but are focused on the decent speed and control.
Enduro bikes
Enduro bikes are built around downhill speed, control and stability. Compared to a XC bike head tube or fork angle is slacker for better control on downhill courses at higher speeds than most XC. The wheelbase is longer for a more stable platform. The reach is longer, so it is easier to stay in the saddle when on steep descents in addition to a more aggressive body position. This makes it easier to get behind the saddle on drops and or jumps so you don't get easily bucked over your bars. The rider can stay in a seated position and move around the seat without getting hung up on the saddle.
The suspension is usually 140 to 160. The frame is heavier than an XC bike because it is built stronger to be able to handle the larger drops and jumps. Traditionally 27.5 tires have a more aggressive tread than XC bikes for better grip in the corners and going over rougher terrain. 27.5 wheels offer better handling, can be placed on longer travel bikes because they are typically stronger than 29in wheels. The 27.5 wheels are nimbler in the corners than larger 29in wheels. However, 29ers are becoming more popular because of better traction, rollover ability, and a smoother overall ride. In the end the 29in wheels just does not beat you up as much.
Trail Bikes
A trail bike is in the middle between an XC and an Enduro bike. If you wanted one bike to do most everything, a nice trail bike would be a great choice. Trail bikes are good at climbing and descending downhill trails. The geometry of a trail bike is not as  steep as a XC bike and not as slack as an Enduro. This means the Enduro front fork is raked out the most and the XC the least with the trail bike in the middle. The Trail frame will not be built as robust as the Enduro bike but it will be stronger than the XC bike. Different bike manufactures may lean more one way than others. Typical travel is between 120 and 140. Trail bikes often come with a dropper seat post a short stem and wide bars. Wheels often come in 27.5 and 29in for the same reasons described for XC and Enduro bikes. A trail bike is the most versatile by offering the most flexibility between riding styles.
Free Ride
Free Ride is very similar to Enduro with big drops and jumps focusing on amazing lines and doing tricks off everything. Free riding often includes finding difficult parts of trail to ride over and over. Free Riding brings world cup skills to inspire local riding groups that often lead into mountain bike skill building sessions. The most important aspect of free riding is to be safe and have fun.
Downhill and Dirt Jump
Downhill is an extreme mountain bike discipline that require huge amounts of skill across technical courses at excessive speeds. Like Enduro Downhill courses are timed. Downhill is high a high-pressure discipline on heavily modified suspension where riders may change wheels or parts several times in a single day. Check our Red Bull Rampage.
Dirt Jump is a combination between BMX and hard tail mountain biking. Like downhill you will see allot of tricks on a smaller frame running a dirt flow or jump track. 
Our Group Ride Team Leaders